03 November, 2020
Views 1832
Shafqat Mahmood Ensures That Schools Will Remain Open
Shafqat Mahmood, Federal Minister of Education, has confirmed that the government has no plans to close down educational institutions. His announcement comes at a time when the whole nation is expecting a second wave of COVID-19. Fake news is circulating on social media about the closing down of schools. Although many health professionals are suggesting closing the educational institutions, the government has not announced to close the schools.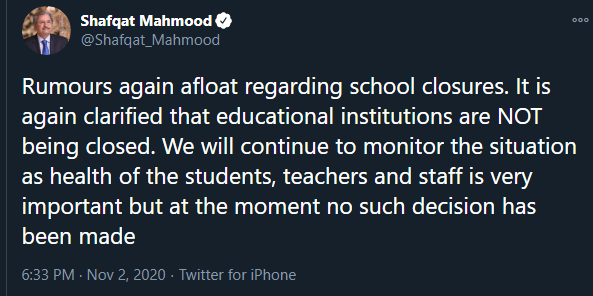 COVID-19 And Education In 2020
Earlier this year in March 2020, all educational institutions were closed countrywide to stop the spread of the virus. All educational activities were paused because of the situation created by COVID-19. Later on, some schools adopted the strategy of online learning to continue the educational process. However, problems were faced as the majority of students were not able to use the internet and had limited excess to smart devices. After the situation got under control and there were very few new cases in September, the government decided to reopen the schools all over Pakistan on September 15, 2020.
Schools Will Remain Open
After the reopening of schools, there is an increase in the number of confirmed cases of the virus. Fake news about the closure of schools on 15 October and 25 October was proven wrong as the government kept the schools open for students. However, as the virus spread has increased in the last 7 days, many people were expecting that the schools will be closed once again. The proclamation of the Shafqat Mahmood regarding the schools has cleared that schools will be open until the condition gets worse.
Government Policies And SOPs
Ministry of Education and National Command And Control Center is in coordination to monitor the situation of COVID-19 in educational institutions. Government has the top priority to ensure the health of teachers and students. In this situation, schools and parents have to make sure that all SOPs are followed. According to the guidelines of the Government of Pakistan, all students and teachers must:
•
Maintain social distancing
•
Refrain from shaking hands
•
Maintain a healthy diet