05 April, 2021
Views 27
Sindh Government Closes The Schools Across Province Due To Third Wave Of COVID-19
The Sindh government has announced to close the schools across the province due to the third wave of coronavirus pandemic. The Sindh education department has made this announcement and notified that the physical classes till class 8th will be suspended from 6th April. The provincial government has taken this decision after reviewing the ongoing situation as there has been a rapid upsurge in the number of coronavirus cases. According to the statement issued by the Sindh education minister, Saeed Ghani the classes will remain suspended for 15 days. He further added that during the time period of closure the students will attend the online classes as per the schedule to cover their coursework. The homework will be assigned to all the students and they are required to submit it to the respective teachers at the appropriate time.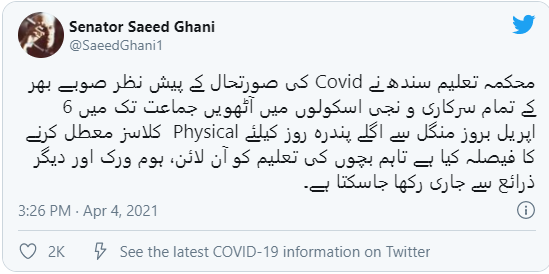 The Decision of Sindh Government
Earlier the Sindh government had proposed to close the schools as the cases of coronavirus continue to increase. The final decision was taken in the meeting of the steering committee of the Sindh Education Department. Moreover, the Sindh health minister also suggested postponing the exams in the coronavirus as it would risk the life of the students. She further added that a single exam should be conducted only in compliance with the SOPs devised by the government.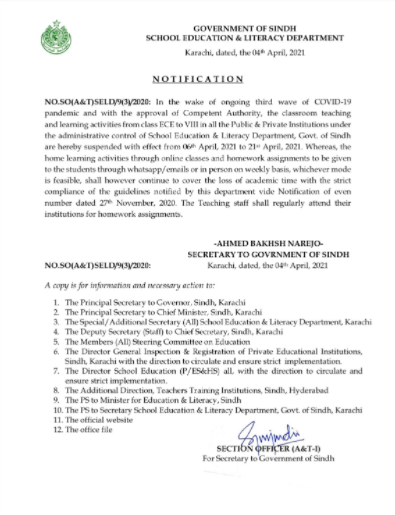 Meeting of NCOC
The federal minister for education and professional training, Shafqat Mahmood has announced that the review session of the national command and operation Centre will be held on 6th April 2021 to review the situation of COVID and to decide about the extension in the closure of the educational institutes. In the previous meeting of the NCOC, it had been decided that the educational institutes in the coronavirus hotspots areas will remain closed till 11th April 2021. The students are directed to attend the online lectures and prepare for the exams. Moreover, the education minister had earlier stated that the annual exams of matric and intermediate will be commenced as per the issued schedule. In this regard, the students are notified that the PBCC had announced the date sheet for the annual exams 2021.