27 October, 2020
Views 1674
Sindh Government Reduces Syllabus For HSC Part-I And Part-II
School Education and Literacy department of Government of Sindh has announced the Sindh board syllabus reduction for Intermediate Part-I and Part-II classes. This decision to condense the syllabus of Sindh came after the agreement of the Minister for Education and Literacy department. The reduced syllabus will be only in effect for the exams of class 11 and class 12 who will appear in the 2021 exams. The condensed syllabus is in the chain of the steps taken by the government to make the process of getting education easier for students after the condition created by COVID-19.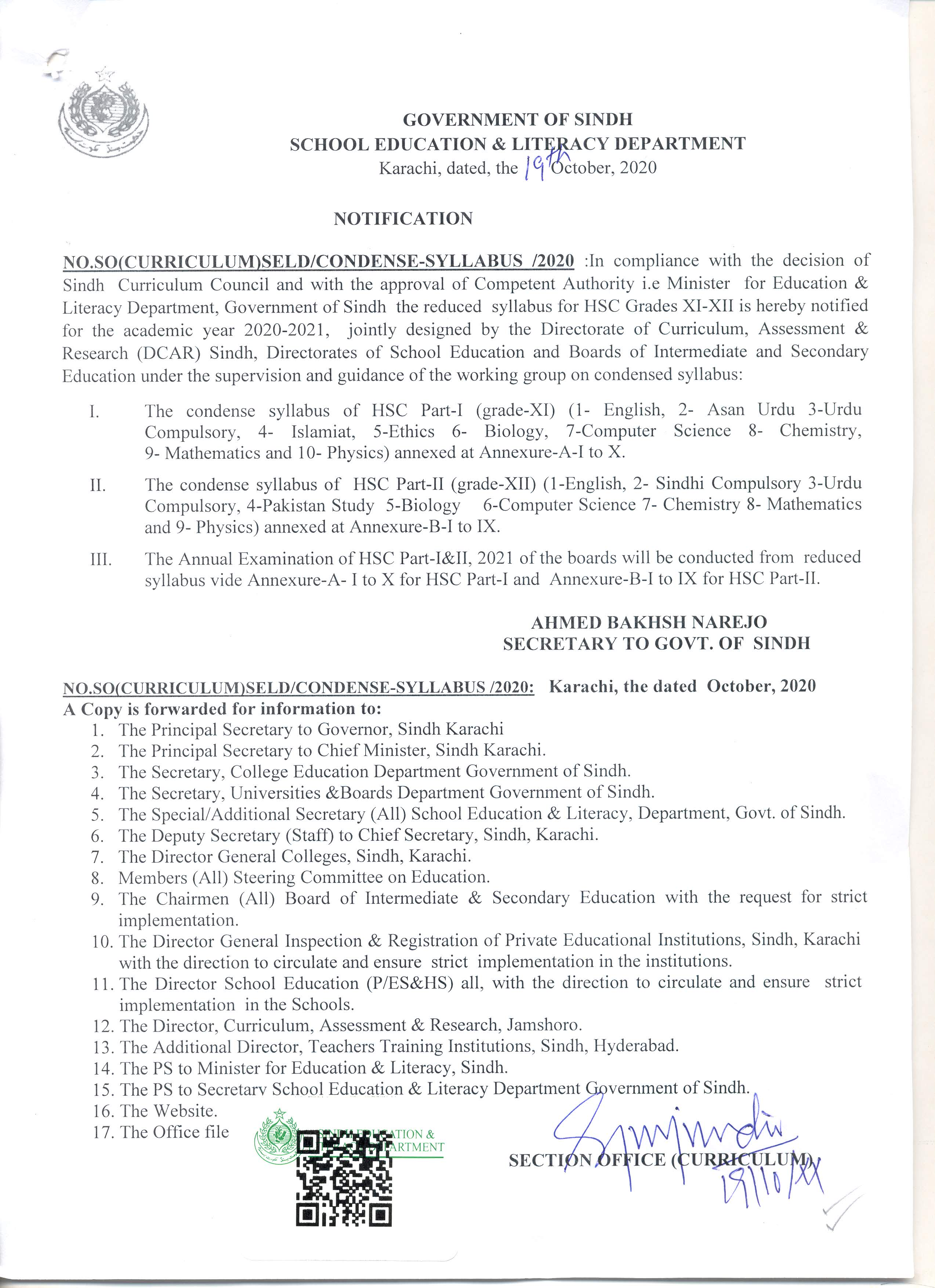 Details Of The Condensed Syllabus
Teachers and students need to note that the Sindh board syllabus 2020 is designed to make sure that students don't miss out on any elementary concepts that they require for higher education. The condensed syllabus was created with the joint efforts of the Directorate of Curriculum, Assessment, and Research, Directories of School Education, and the Boards of Intermediate and Secondary Education of Sindh.

Condensed Syllabus For HSC Part-I Subjects
Syllabus of the following subjects of HSC Part-I has been reduced:

Reduced Syllabus For HSC Part-II Subjects
The condensed syllabus of the HSC Part-II subjects is as follows:

Great News For Students
Things got difficult for teachers and students as a country-wide lockdown imposed earlier this year in March 2020 limited educational activities. Many students were not able to attend classes because of the technological limitations like Slow Internet and Unavailability of Smart devices. That's why thousands of students could not complete their syllabus and appear in exams is with a complete syllabus is indeed a difficulty for them. But the decision of the educational authorities of the government to publish the Sindh board reduced syllabus 2020 will ensure that all students have ample time to prepare for the exams. But keep in mind that the reduced syllabus will only be in effect for the Part-I & II exams of 2021.