12 November, 2020
Views 1060
Sindh High Court Postpones National MDCAT 2020
Sindh High Court has postponed the national MDCAT 2020 and directed the Pakistan Medical Commission to form the academic board and examination authority. SHC has ordered to finalize the syllabus of the MDCAT before conducting the medical entrance exam. The court highlighted that the National Medical and Dental Academic Board had not been formed under the Pakistan Medical Commission Act 2020 so under such circumstances it is not possible to commence the MDCAT. The Court also underlined the fact that the Board could not be founded because there was no representative from the Sindh government. As per the court ruling, the board will have the administrative power to devise the examination structure and policy for the MDCAT.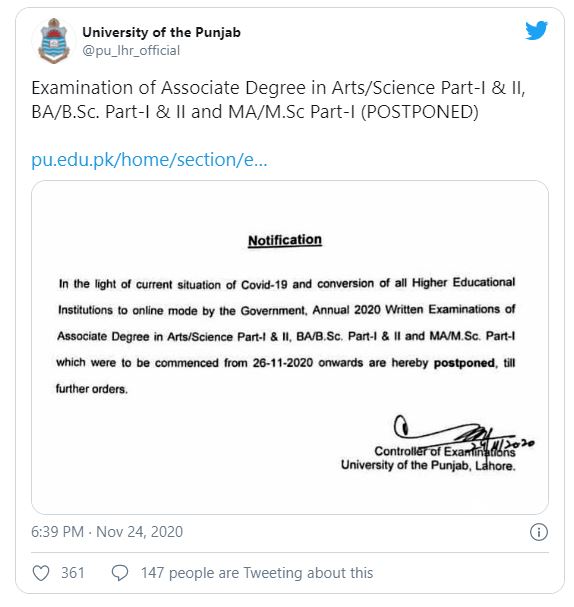 Modification in MDCAT Syllabus
The SHC criticized the decision of PMC regarding the change in the syllabus at the last minute. The students also expressed their anger and protest on Twitter by demanding to delay the MDCAT for one to two weeks. Earlier the PMC had mentioned that the students would have the option to submit the complaints in case the question would be out asked in the test out of the syllabus. The authorities will immediately respond to complaints received from the MDCAT applicants. The court said that this will create uncertainty and confusion among the students and rendered this decision as unreasonable and nonstandard. In October the court had restrained the Sindh government to hold the MDCAT for admission in the medical and the dental colleges of the province. A conflict was emerged between the provincial and the federal authorities over the admission policy.
Clarification Regarding Registration
Pakistan Medical Commission has issued a clarification about the registration process after the cancellation of MDCAT. It is stated that the students that have been registered for the national MDCAT 2020 before the deadline i.e., 6th November will be allowed to sit in the exam with their registration card and the roll number slips. Earlier the PMC had issued the roll number slips to all the MDCAT applicants that have submitted their registration form and the paid fee challan.