Dera Ghazi Khan's board has been in operation since 1989. Layyah, Rajanpur, Muzaffargarh, and Dera Ghazi Khan are the jurisdiction that comes under D.G Khan Board. The Board maintained its status by releasing the exam date and announcing the 1st year result 2022 dg khan board on time. All the students of 11 class who are affiliated with the D.G Khan Board are informed that the exam date of inter part 1 has been declared by the Board. The exam will start on 18 June 2022. However, the Dera Ghazi Khan Board has yet to announce the 1st year result 2022. The expected month of releasing the result is September 2022.
Students are advised to check our website Campus. pk regularly in terms of getting the most recent information.
How To Check DG Khan Board 11th Class Result 2022
Most of the students also ask that how and where they can check result. If you are also thinking that how you can get the BISE DG Khan 11th class 2022 result, then you can get the potential information on how to check result. The general idea we would like to share with students that the process to check result is the same as you had checked the result in the previous classes such as 9th class or 10th class. However, we offer a reminder to students to check result easily:
Check Result By Website: first of all, the board of education announces the final result only on its official website. We advise students to visit the official website of the DG Khan board of education on the day of result announcement.
Check Result By SMS: The board of education facilitates those students who cannot have internet access. Those students can check their result by SMS. If you want to check dg khan board inter part 1 result 2022 by SMS then just send your roll number to "800295".
Students are advised to keep in touch with the official website of the Bise Dg Khan to get more updates.
www.bisedgkhan.com
064-2430220
bise786@gmail.com.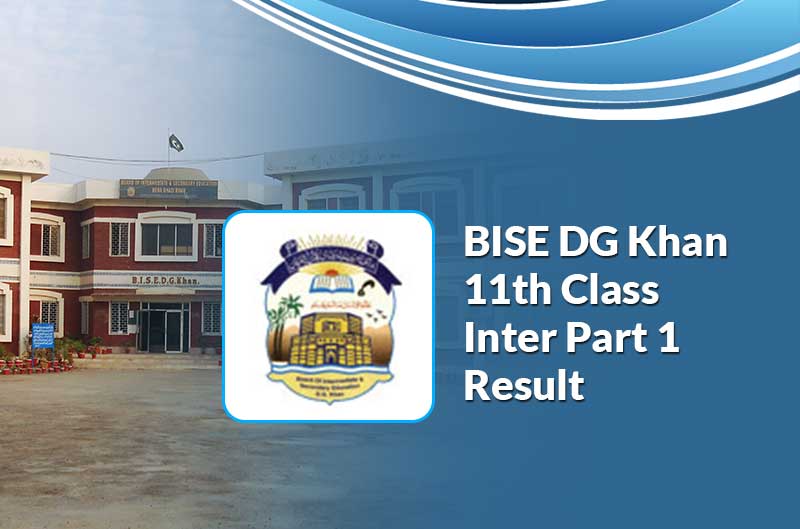 Important Information on 11 Class Result Bise D.G Khan Board
Some of the important information on the 11 Class Result of Bise D.G Khan Board are mentioned here. Read out the points to keep yourself up to date.
The exam date has been declared by the D.G Khan Board for class 11.
The result is yet to be declared by the Board.
D.G Khan Board will conduct the exams for 1st year from 18 June 2022.
The roll number slips will be provided before one week of exams.
Students will appear in the exams having their roll number slips.
All the groups in 1st year including FA part 1, FSc part 1, ICS part 1, I.COM part 1 will be able to check their results on the same date that is issued by the Board.
Students of ICS and I.Com groups can make a combination of their desired subjects for the exams.
The D.G Khan Board will declare the result of 11 class position holders one day before the result announcement.
The total marks in the 1st year will be 550.
The passing percentage in each subject is 33 percent.
Quick Facts on HSSC Part 1 Result 2022 DG Khan Board.
| | |
| --- | --- |
| Board | D.G Khan |
| Class | 11 |
| Official Website | www.bisedgkhan.edu.pk |
| Board Chairman | DR.KISHWAR NAHEED RANA |
| Bise D.G Khan Contact Number | 0331 7347940. |
| Exam date for Class 11 | 18 June 2022 |
| D.G Khan Board Address | Board Rd, D G Khan, Dera Ghazi Khan, Punjab |
| Result Status | Not declared yet |
| Year | 2022 |
| Total marks in HSSC Part 1 and 2 | 1100 |
| Marks in each part of HSSC | 550 |
| Email of D.G Khan Board | info@bisedgkhan.edu.pk |
BISE DG Khan FA/FSC Results 2022:
Intermediate students appeared for an annual examination in the month of August. The intermediate class completes in two sections i.e. 11th class or part I and 12th class or part II. The examination period runs throughout the year and students complete the title of intermediate in two years. Every year the examination schedule arranges in such a way that students of 12th class appear first and students of 11th class appear at last. The same process also happened this year. This is the reason, BISE DG Khan is going to declare 12th class result 2022 at first and students of part I classes will get dg khan Intermediate Part I Result in 2022 at last.
Annual 1st Year Result 2022 DG Khan Board:
With the different stages of education or study subjects students are provided at an intermediate level of education. Generally, there are two categories that exist out of which students have to join one. These are the science group and art group. The art group of study is the common one, but we find there are some additional categories of science group of study. These are comprised of FSC premedical study group, FSC pre-engineering study group, ICS or computer science study group, etc. with their own specific importance and scope all these categories exist, and numerous students, every year choose the categories according to their nature and taste.
Dera Ghazi Khan Board:
Board of intermediate and secondary education, BISE DG Khan is one of the educational boards running throughout Pakistan. This educational board belongs to Punjab which is known as the hub of quality education throughout Pakistan. It was established in 1989 with the aim to offer good quality education to the areas selected for its. The areas selected for this board comprised of Dera Ghazi Khan District, Muzaffargarh District, Layyah District, and Rajanpur District.
Join our email list to get informed on priority whenever the 11th Class result is announced by DG Khan Board