Updated on March, 2023
Students are informed that the 11th class date sheet for the exams is expected to be released in the month of May. BISE Gujranwala Board exams will commence from June, 2023. This information will be helpful for students who are studying for their exams and need to stay informed about important dates related to their examination.
The BISEGRW board is currently in the process of developing the 11th class (HSSC) annual examination date sheet 2023 so students are advised to start their revision of important course syllabus such are core subjects and as well as optional subjects. Only by through proper understanding of important subjects will students of 11th class (HSSC) have any chances of success as students face very fierce competition in their annual examinations of 11th class 2023.
The students of Board of intermediate and secondary education Gujranwala will have to secure very high marks in their upcoming board examinations in order to prove their worth as the board compensates 11th class students efforts by giving them gold medals, cash prizes and recognition certificates. Students of 11th class therefore should try not to waste their precious time as once you loose this important opportunity to secure your future you will not have regain your time back and will have to attempt supplementary exams while also losing your valuable year in studies.
Board of Intermediate and Secondary Education, BISE Gujranwala announces the examination schedule almost a month before starting the examination. Students who are looking for 1st Year Date Sheet 2023 Gujranwala Board are to inform in the month of May the board will officially announce the 11th class date sheet 2023 Gujranwala and in the month of June, the board will conduct the annual examination of intermediate classes. It is the common time period of intermediate examination throughout the year. The intermediate class is generally divided into two sections including 11th class and 12th class. The total examination procedure for both of the sections runs for up to two months. Student are advised to stay connected with our website as campus.com let you know about the date sheet as soon as it is delivered.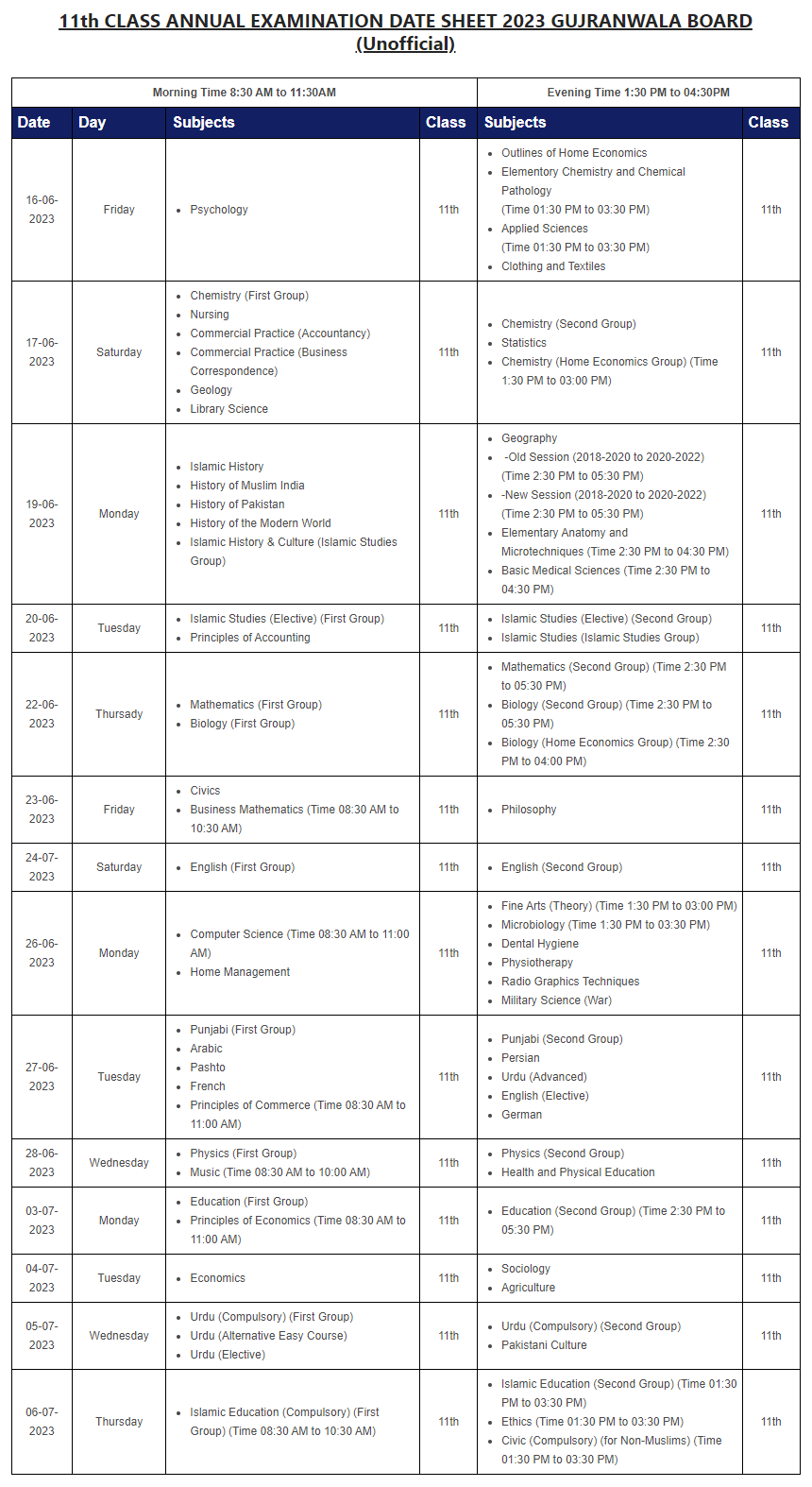 Important Information on BISE Gujranwala 11th Date Sheet
| | |
| --- | --- |
| 11th Exam Start Date 2021 | 16 June, 2023 |
| Compulsory Subjects | 3 Subjects [Details] |
| Optional Subjects | 14 Subjects (Physics /Maths /Biology /Chemistry /Computer /General Science /Islamyat Elective /Punjabi /Education /Civics /History /Economics /Jughrafia) |
| Board Jurisdiction | Gujranwala, Gujrat, Mandi Bah-ud-Din, Hafizabad, Narowal, Sialkot |
| Duration of Exams | Completes in 30 days |
| Official Board Website | www.bisegrw.edu.pk |
| Date Sheet Status | Announcing in the month of May 2023 |
1st Year Date Sheet 2023 Gujranwala Board In PDF :
To make the standard of examination and education string and precious there are some strict rules apply to the students. But, keep it in mind that these are all just for the security of the students and their career.
you can get more updates regarding your study program from the official website of the Gujranwala board:
www.bisegujranwala.com
FA Date Sheet 2023 Gujranwala Board:
Actually, an intermediate level of education is considered as the leading point for the career of the students. This is the point at which students are allowed to choose their pathway for making their career bright and exceptional. Students follow one of the different provided study subjects or programs at an intermediate level. Students having a taste of mathematics subject look for FSC pre-engineering studies, FSC pre-medical studies are for those who want to make some contributions in the field of medicine, then computer science is another subject that has become the main focusing point by a large number of students today. At the end, we would like to mention the students who are replete with literary taste and choose the humanity subjects at an intermediate level.
Date Sheet 11th Class 2023 Gujranwala Board:
From the 10 educational boards running under Punjab Board of Intermediate and Secondary Education, BISE Gujranwala is the one which was established in 1976. The board of education is performing its duty well in conducting an examination, declaring the result and in all other matters that are necessary to lead a good quality education system. Several areas or jurisdictions including Gujranwala District, Gujrat District, Mandi Bahauddin District, Hafizabad District, Narowal District, and Sialkot District, etc come under the BISE Gujranwala.
11th Exam Paper Pattern For Major Subjects
| | |
| --- | --- |
| Urdu | 75 Marks, 19 MCQs, 10 Short Questions, 5 Long Questions. |
| English | 75 Marks, 19 MCQs, 10 Short Questions, 5 Long Questions. |
| Islamiyat | 50 Marks, 19 MCQs, 10 Short Questions, 5 Long Questions. |
Hi Everyone ,
Mujhe koi bata sakta ha k papers kab hony hain 1 year k ........
Agar kisi ko ni pata to dua karein k cancel ho gaein .........
Ameeeeeeeen !!!