Updated May 2023
According to the resources 11th Class Annual Date sheet 2023 of BISE Multan Board has release in month of May, 2023 and the exams of the Intermediate Part-I to be held in the month of June, 2023. Students are recommended to stay connected with us for latest updates.
The students of 11th class (SSC) doesnt have to wait as BISE Multan board has currently announced their 11th class date sheet in the month of May, 2023. Students of intermediate who have already completed their annual examination preparation are recommended to continue their preparation as going through important core subjects and optional subjects for as much as they can in order to attain better study material understanding for securing top marks and position in their upcoming annual examinations 2023.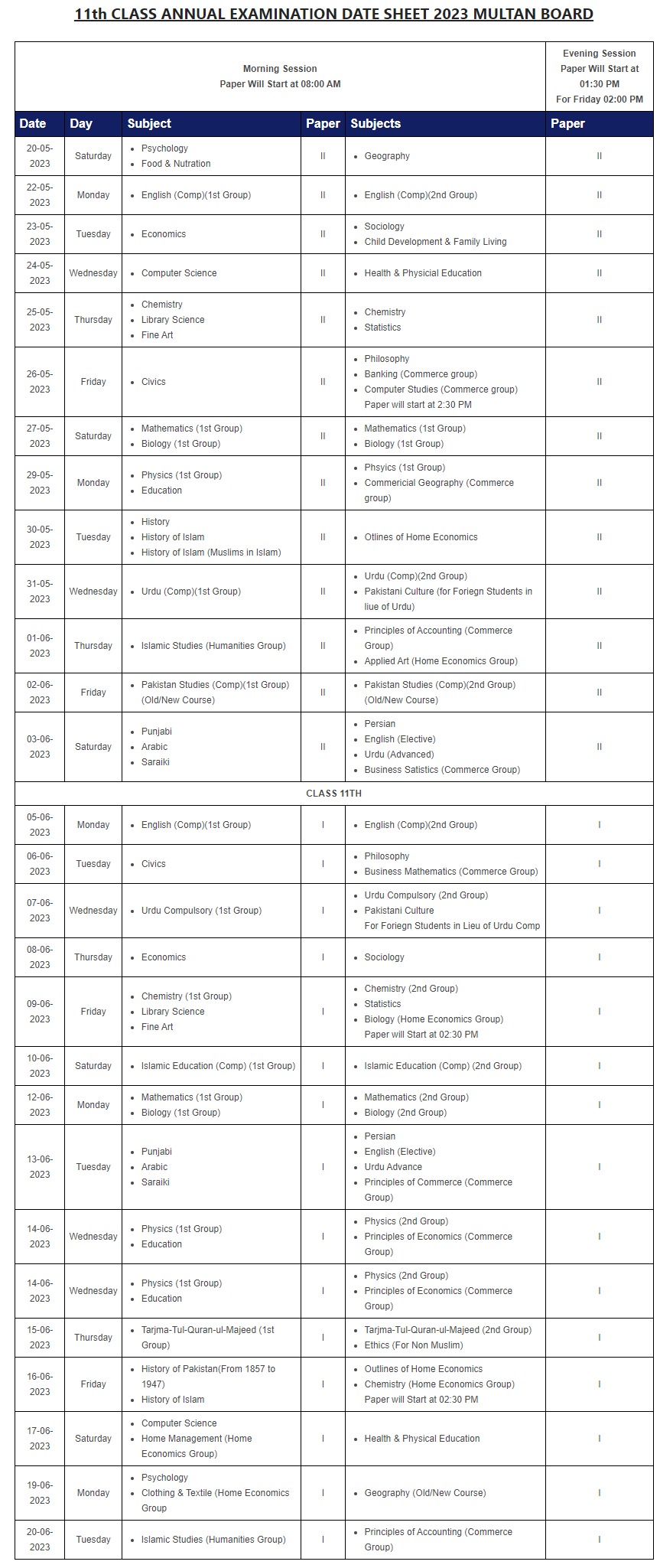 The students of 11th class will find all information concerning their upcoming 11th class exams and all helpful guides and study material on this page which will greatly help them in securing the best possible marks that they can achieve for securing their future. Having the best or top position among education board is a great achievement and honor and everybody appreciates your educational achievement so you can go for admission in Pakistan best colleges and universities or even apply for international education degree program.
Board of Intermediate and Secondary Education, BISE Multan will be announced the 1st Year Date Sheet 2023 Multan Board for annual examination of 2023. Students are to inform that in the month of June they will be called for the final examination. In the month of May, they will be provided with date sheets. Date sheets are actually a reminder to the students about their examination. Students after receiving inter part 1 date sheets make their final exam preparation schedule. All those students who are waiting for the 11th class date sheet 2023 Multan Board are to inform you that the date sheet will be announced in May, 2023. So keep in touch with the official site of Multan board:
www.bisemultan.com
Multan Board 11th Class Datesheet FAQs
Q: When will the Multan board release the 11th class date sheet for 2023?

Ans: The datesheet of Multan Board 11th class was released on May 2, 2023.

Q: When is the scheduled start date for the 11th class Multan Board annual exams?

Ans: The commencement of the 11th class annual exams was set for June 5, 2023.

Q: Where can I find the Multan board 11th class date sheet for 2023?

Ans: The Datesheet of Multan Board 11th class is available on its official website and on Campus.pk as well.
Important Information on BISE Multan 11th Date Sheet
| | |
| --- | --- |
| 11th Exam Start Date 2023 | 05 June, 2023 |
| Compulsory Subjects | 3 Subjects [Details] |
| Optional Subjects | 14 Subjects (Physics /Maths /Biology /Chemistry /Computer /General Science /Islamyat Elective /Punjabi /Education /Civics /History /Economics /Jughrafia) |
| Board Jurisdiction | Multan, Khanewal, Vehari, Lodhran |
| Duration of Exams | Completes in 30 days |
| Official Board Website | web.bisemultan.edu.pk |
| Date Sheet Status | Announced in the month of May, 2023 |
1st Year Date Sheet 2023 Bise Multan Board:
It has seen that every year the students of intermediate classes call to appear for annual examination during summer especially in the month of May. Intermediate education level completes into two sections including part I and part II classes. The examination of both of the classes takes the time of two months almost. Students of 12th class or 2nd part appear first for examination and those students who are preparing for the 11th class or 1st part will be called for examination at the last. Regular students and private students both are informed that they will get Intermediate Multan Board date sheet 2023 at the same time, and they will appear for the same examination.
The intermediate level is the key to the door which will direct you towards the higher education stages or towards our career level. So, choose the best subjects at this level and then make good efforts for obtaining good achievements in your career. Students are to be informed that at this level they are allowed to choose one of the best programs from FSC pre-medical, FSC pre-engineering, ICS and FA classes. All these study programs have their own values. Just choose the one for which you have an interest and good taste.
Date Sheet of 11th Class Multan Board 2023:
The government of Punjab has proposed several Boards of Intermediate and Secondary Education. All these boards of education have proposed for the reason to offer good quality education throughout Punjab and BISE Multan is one of these educational boards. In 1968 this board of education came into existence and it is covering the areas Multan, Lodhran, Vehari, Khanewal, etc. students from all these areas appear for examination under this board of education.
11th Exam Paper Pattern For Major Subjects
| | |
| --- | --- |
| Urdu | 75 Marks, 19 MCQs, 10 Short Questions, 5 Long Questions. |
| English | 75 Marks, 19 MCQs, 10 Short Questions, 5 Long Questions. |
| Islamiyat | 50 Marks, 19 MCQs, 10 Short Questions, 5 Long Questions. |
Hi Everyone ,
Mujhe koi bata sakta ha k papers kab hony hain 1 year k ........
Agar kisi ko ni pata to dua karein k cancel ho gaein .........
Ameeeeeeeen !!!