Board
Exam Result
Status
Action

Rawalpindi Board

BISE Rawalpindi Board 11th Class Exam Result 2022

Announced On

17th November 2022

Check Online
All the students who are affiliated with the Rawalpindi Board are informed that the 1st year result 2022 rawalpindi board are going to be announced on 19th November 2022. Students appeared in the exams on June 18, 2022. Only those students will pass the papers who received 33 % marks in each subject. Otherwise, you will be considered a failure. To stay up to date, stay in touch with us.
Introduction of Rawalpindi Board
The Board of Intermediate and Secondary Education Bise Rawalpindi was established in 1977. Areas and districts that are included in the Rawalpindi board are Rawalpindi, Jhelum, Attock, and Chakwal. The board is located in Rawalpindi's ARL Colony at the Attock Oil Refinery on Morgah Road.
The Rawalpindi board is in charge of giving candidates their roll numbers slips, date sheets, and results on a specific time. If students need any information, they can also email info@biserwp.edu.pk in terms of any query.
How To Check 1st Year Result 2022 Rawalpindi Board
To check the 11th class result 2022 rawalpindi board there are numerous ways. 1st year students can easily check their grades online from any location. The following are the procedures to verify the Bise Rawalpindi 1st year result 2022:
Check Result by Roll number:
By inputting their Roll number, students can check their 1st year result. Follow the steps indicated below to learn more about the method.
•
First of all, go to the official website of the Rawalpindi Board. biserwp.edu.pk
•
Enter your Roll Number carefully in the given box.
•
Select the annual year 2022.
•
Click on the search result button to verify result.
Check Result by Name:
The steps listed below can be used by students to check their result by name.
•
Type your Name on the official website.
•
Type your Father's name.
Check Result by SMS:
One of the simplest ways to check the 1st year result 2022 Rawalpindi board is by SMS. Students who are unsure on how to proceed with the result can obtain the instructions from this page.
1.
Text 800296 with your Roll number in the message box.
2.
Your results will be sent to you through SMS after some time has passed.
Check Result by Gazette:
It is quite easy to use a gazette to verify the 1st year result. Students had to deal with a network problem on the results day that is still ongoing. They find it inconvenient. They can use this method to check the 11 class result 2022 bise Rawalpindi from the result gazette. Additionally, students have access to the Gazette to examine and download exam results from the past and present years.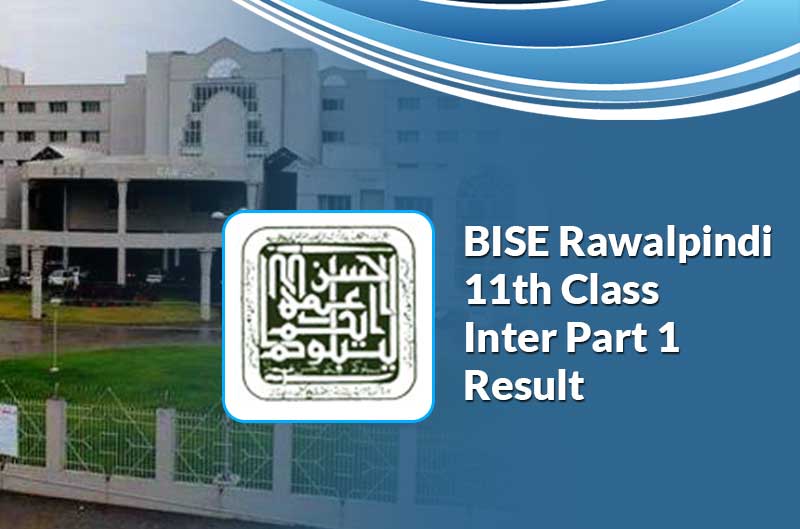 Key Facts on HSSC Part 1 Result 2022 Rawalpindi Board:
Some of the major key facts on the exam and the result of 11 class are outlined below for the student's convenience.
The Bise Rawalpindi Board has declared the exam date of class 11.
The exam will be conducted from 18 June 2022.
Rawalpindi board inter part 1 result 2022 will be declared after three months of final exams.
The expected month of releasing the result is September 2022.
The total marks in 11 class will be 550.
English, Urdu, and Islamiat are the compulsory paper in 11 class.
The total marks for Compulsory subjects including (English and Urdu) will be 100 marks whereas, in Islamiat, the total marks are 50.
Students of F.A part 1, FSc part 1, ICS part 1, I.COM part 1 can choose different combinations in their subjects.
The Bise Rawalpindi Board will declare the result of toppers/ position holders one day prior to the result announcement.
Students in 1st year will be given their roll number slips before one week of exams.
Quick Facts on 11 Class Result 2022
| | |
| --- | --- |
| Board | Rawalpindi |
| Class | 11 |
| Official Website | biserawalpindi.edu.pk |
| Board Chairman | Mr. Saif Anjum |
| Bise Rawalpindi Contact Number | (051) 5450929 |
| Exam date for Class 9th | 18 June 2022 |
| Rawalpindi Board Address | Attock Oil Refinery. Morgah Rd, ARL Colony Rawalpindi, Punjab |
| Result Status | Not declared yet |
| Year | 2022 |
| Total marks in 11th class result | 1100 |
| Marks in each part of HSSC | 550 |
| Email of Rawalpindi Board | info@biserwp.edu.pk |
Clarity & Satisfaction of 1st Year Result 2022 Rawalpindi Board
Students are to inform that there are thousands of students appear for annual examination throughout the year. In order to prepare, manage, and publish the result of thousands of students board of education requires enough time. Actually, this time grabs by the board of education to bring clarity and satisfaction in the resulting system. This clarity and satisfaction is the main point to reform the education system in any country, nation, or area.
Regular & Private Students 11th Class Result 2022:
Students are to inform that during their examination both types of students including private students and regular studies both appeared for the examination at the same time and both performed almost the same examination. So, do not be worry about the resulting system because both types of students will be provided with the 1st year result 2022 rawalpindi board at the same time. Intermediate is the most precious level of education because it leads you towards the higher education stages or towards you're career. So, we offer best wishes to all the students for their bright career and future.
Result of BISE Rawalpindi:
There are almost 10 educational boards are running throughout Punjab. These educational boards are selected or divided through specific areas and are collectively covering the whole of Punjab. Board of Intermediate and Secondary Education, BISE Rawalpindi is one of these boards of educations. The board was established in 1977 and right from that time it is consistent on his mission to promote the education system in the selected areas. Annual examination conduction and annual result announcement are the ways through which the education system is getting promotion day after day by BISE Rawalpindi.
Rechecking & Marks Improvement Process after 1st Year Result
When the 1st year results are made public. Students who perform poorly in the papers and those who receive the lowest grades in the final term are constantly looking for information to recheck their papers. So, this information is to let you know that you can register online and recheck your papers. Within 15 days of receiving the results, you can register yourself online for the rechecking process. You must submit one thousand rupees for each subject. You can raise your grades in the papers you wish by doing this. If there is an increase in your numbers. You will be given your amount back.
Statistics of 11th Class Result 2022 Rawalpindi Board
After the announcement of the 1st year result, the Bise Rawalpindi Board statistics for the 11th grade will be accessible on this page. Students will soon be able to check the percentage of the results. The information regarding total students appeared and pass students will be available here.
Years
Appeared
Passed
Percentage
2021
62646
62115
99.15%
2020
51677
49778
96.33%
2019
73665
32156
43.65%
2018
72566
56312
77.60%
11 Class Result Date and Time
The 11 class result date and times are mentioned here for the students' assistance.
Date of 1st Year result
19th November 2022.
Time of 1st year result announcement.
10.10 a.m.
Frequently Asked Questions
1. How to apply for re-checking of paper after 11th class result of Rawalpindi Board?
Some students find their results unsatisfactory. They prefer to re-check their one or more paper. The process for re-checking of paper is convenient and it does not take much time. To apply for re-checking of paper after 11th class result of Rawalpindi Board, go to the Rawalpindi Board's official website www.biserawalpindi.com , enter your roll number and get the result. When the result opens, there is also option of "apply re-checking", click on it and choose the desired number of subjects for re-checking. Once applied, download the re-checking form and submit your bank challan in the relevant bank and wait for re-checking date and time.
2. How to check 11th class result of Rawalpindi Board via SMS code?
Those candidates who do not have access to internet connection, they can get their 11th class result of Rawalpindi Board via SMS code. To get result via SMS code, type your roll number and send it to 800296. You will get result within few seconds.
3. How can I check my inter part 1 result of Rawalpindi Board through name?
When the inter part 1 result of Rawalpindi Board is announced, candidates can get their results online. They have to provide name on the official website to get their inter part 1 result.
4. Has Rawalpindi Board announced the 11th class result date?
No fix 11th class result date has been declared by Rawalpindi Board. It is forecasted that the 11th class result will be announced on september, 2022 at 10:10 am.
5. How to check the 11th class result of Rawalpindi Board on Campus.pk?
To get your result of inter part-1 of Rawalpindi Board through Campus.pk website, search the website www.campus.pk on Google or other search engine. When the website is opened, go down the page. Select the 11th class and Rawalpindi Board, enter your roll number and get your result.
Join our email list to get informed on priority whenever the 11th Class result is announced by Rawalpindi Board