Board
Exam Result
Status
Action

Sahiwal Board

BISE Sahiwal Board 11th Class Result 2022

Announced On

17th November 2022

Check Online
11 class students are informed that the 1st year result 2022 sahiwal board is going to be announced on 19th November 2022. Students of 11 class appeared in the final exams from 18th June 2022. Now all those who are anxiously waiting for their results are advised to keep visiting us. We will keep notifying you from the result updates. Candidates who will receive 33% marks in each paper will be able to pass the subject otherwise you will be considered a failure.
Bise Sahiwal Board:
From the educational boards that are recently established by the Punjab government board of intermediate and secondary education, BISE Sahiwal is one. It was established in 2012. It is true that it is not so old but it is performing its best the same as the oldest boards of education are working throughout Pakistan. It covers several areas including Vehari, Okara, and Sahiwal. Students from all these areas are to inform you that they will be provided with 1st year result 2022 Sahiwal board with complete satisfaction and clarity.
Quick Facts on HSSC Part 1 Result 2022 DG Khan Board.
| | |
| --- | --- |
| Board | Sahiwal |
| Class | 11 |
| Official Website | bisesahiwal.edu.pk |
| Board Chairman | Hafiz Muhammad Shafiq |
| Bise Sahiwal Contact Number | (040) 9200516) |
| Exam date for Class 11 | 18 June 2022 |
| Sahiwal Board Address | Govt. Graduate College, Farid Gunj Sahiwal, Sahiwal District, Punjab 57000 |
| Result Status | Not declared yet |
| Year | 2022 |
| Compulsory Subjects in HSSC Part 1 | English, Urdu, Islamiat |
| Total marks in HSSC part 1 and 2. | 1100 |
| Email of Sahiwal Board | info@bisesahiwal.edu.pk |
Key Facts on HSSC Part 1 Result 2022 Sahiwal Board.
Key facts on the 11th class result 2022 sahiwal board and exams are mentioned in the given points. Read them to get the knowledge.
The exam date for all groups of inter has been declared.
The result date has yet to be announced.
Students will be provided the date sheet before one month of final exams.
Exam date for all groups of inter including F.A part 1, FSc part 1, ICS part 1, I.COM part 1 are the same
The roll number slips will be given to Inter part 1 students before one week of exams.
One day before the regular results, the D.G Khan Board will announce the results of 11 class position holders.
In the 1st year, the total marks are 550.
Each subject has a passing percentage of 33%.
The total marks of the Islamiat paper are 50.
On Fridays, the paper will be delivered at a different time than on other days.
Students on the morning shift must arrive at the examination center at 8 a.m.
The evening session paper will begin at 1.30 p.m.
How to Check Sahiwal Board 11 Class Result 2022
To check the Sahiwal board inter part 1 result 2022, students are advised to follow the given procedure.
You can check your result by using different methods. Some of them include.
Check your Result by Roll Number:
To check your bise sahiwal 11th class result 2022, you can use the roll number. It is the common way that is used by almost every student on the day of result declaration. Check out the given procedure.
1.
Go to the Sahiwal Board's website.
3.
Select the Intermediate option and click on the result on the right side.
4.
A file will appear. Select your class 11.
5.
The select year is 2022.
6.
Select your session "annual".
7.
Click on "Get result".
Check your Result by Name:
To check your result by name, you have to visit the official website of the Bise Sahiwal Board. Enter your name and Father's name there. Check your result then.
Note: It is to be remembered that the option to verify the result by name is given by a few websites.
Check your Result by SMS:
On the result day, the websites remain busy at the moment. Therefore, students can use this offline method to verify the result. Follow the outlined procedure to check if you want to use this method.
1.
Type your roll number in the message box.
2.
Send it on the code of Bise Sahiwal Board which is 800292.
3.
After sending it, you will receive your result containing your total marks.
Check your Result by Gazette:
All the intermediate students can verify their result by using a gazette. The gazette is in pdf format. You can also check your past year result from the gazette. The gazette is a file that consists of the results of all the groups.
To check your result, visit the website, the result gazette will be available after 1 hour of the annual result announcement.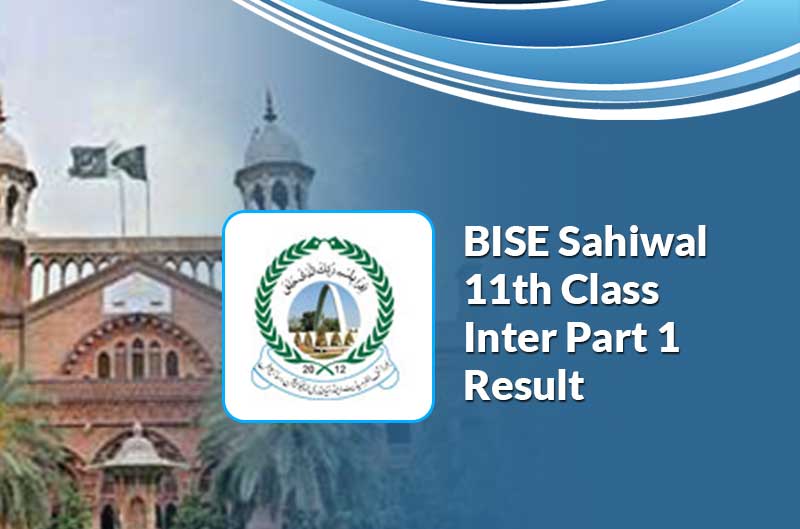 When will 1st year result 2022 sahiwal board Annouced.
Intermediate examinations by BISE Sahiwal were held in May 2022. The examination period of intermediate classes was completed in almost two months. Students of part II classes were appeared at first and the part I students appeared at last. This is the reason, Intermediate Part 2 Result will declare at first than that of Inter part 1 Result 2022 Sahiwal board. But, it is expecting that within the same month the students will get results with a difference of a few days.
Rechecking and Marks Improvement Process.
Candidates can apply for the process of rechecking. If you receive poor grades on the papers, you can recheck them by registering online on the Sahiwal Board's official website. You must present at the Board office on the day specified in the email in order to have your papers checked again. You can file a complaint with the Educational Authorities if your grades will be raised.
Keep in mind that you must submit 1000 rupees for each paper. Your money will be returned to you if your grades rise. You can recheck your desired papers. It is to be remembered that you can get the advantage of rechecking the papers within 15 days after the result.
Marks Improvement Process after Result:
You can submit an application for the second annual exam if your grades after the first year's results need to improve. The second annual exams are for students who received poor marks and for those who desire to improve their annual exam grades for more satisfaction. The requirements for applying for admission are the same as for the 1st annual. After 40 days of the final result of 11 class, the 2nd annual (supplementary) exams will be conducted.
Statistics of Bise Sahiwal Board.
The statistics of the 11 class result from the academic session 2022 will be available soon. When the result will be made public, we will upload the statistics here. You can get the estimate of total students, appeared students, and passed students from this page.
Years
Appeared
Passed
Percentage
2021
53589
52403
97.79%
2020
Promoted
Promoted
Promoted
2019
54532
52789
96.80%
2018
52352
50987
97.39%
11 Class Result 2022 of Sahiwal Board Date & Time.
The result date and timings are mentioned below.
Date of Result: 19th November 2022
Timings of Result: 10:10 a.m.
FA/ FSc/ ICS Future Scope.
BISE Sahiwal conducts the examination of both types of students including private students and regular students at the same. Students are further classified with respect to study programs. Generally, there are two types of study program exists at an intermediate level and these are science subjects and art subjects. Anyhow, science subjects further classified into three main study programs and these are engineering studies, medical studies, and computer science studies. With their own specific importance and values, the subjects exist in the education system. The intermediate level is considered as the stage to choose your career. Which subject you would choose at this stage may be the final decision about your career. So, choose the subject with care and make potential contributions to your chosen subject.
Frequently Asked Questions
1. Is the 11th class result date announced by Sahiwal Board?
Sahiwal Board has not issued any exact date of 11th class result yet. However, it is predicted that the 11th class result of Sahiwal Board will be declared on September, 2022 at 10:10 am.
2. How can I check my inter part 1 result of Sahiwal Board via website?
Checking result via Board's official website is the most common way to get inter part 1 result. To check BISE Sahiwal Inter part-1 result by using website, visit the Sahiwal Board's official website www.bisesahiwal.com, select online result part 1, enter your roll number, click on View Result and get your result.
3. How to check inter part 1 result of Sahiwal Board on Campus.pk website?
The 11th class result of Sahiwal Board can be checked both on Board's official website and other websites. To get result of inter part-1 of Sahiwal Board on Campus.pk, type the website www.campus.pk on Google or other search engine. When the website opens, go down the page. Select the 11th class and Sahiwal Board, enter your roll number and get your result.
4. How can I apply for re-checking of paper after 11th class result of Sahiwal Board?
If you do not find your inter part 1 result satisfactory. You can apply for re-checking of one or more paper. The process for re-checking of paper is convenient and it does not take much time. To apply for re-checking of paper after 11th class result of Sahiwal Board, go to the Sahiwal Board's website www.bisesahiwal.com , enter your roll number and get your result. When the result opens, there is also option of "apply re-checking", click on it and choose desired number of subjects for re-checking. Once applied, download the re-checking form and submit your bank challan in the relevant bank and wait for re-checking date and time.
5. Do marks increase in paper in re-checking after 11th class result of Sahiwal Board?
Usually, the marks do not change in re-checking. However, they can increase in rechecking if there is mistake in counting total marks or some questions are left unchecked. They do not decrease than previous marked marks.
Join our email list to get informed on priority whenever the 11th Class result is announced by Sahiwal Board