Updated May 2023
Dear students,
The education ministry has announced that the 12th class annual exams will begin on May 20, 2023. The Gujranwala Board has officially released the 12th Class Date Sheet 2023, which is available on this page.
We encourage you to remain focused and maintain a consistent study routine to maximize your chances of success in the exams. You can also stay connected with us for updates.
The date sheet was released by the board in the early days of this month, and all students affiliated with the Gujranwala board can access the 12th class date sheet of BISE Gujranwala 2023 from this page. The Gujranwala board will also conduct the 12th class practical exams after conducting the written exams from the students.
The BISE GRW board has announced the date sheet for 12th class (HSSC) in the month of May, 2023. Students who are not studying or paying attention to their studies should stop all activity and commence preparation of their annual examination as timing is vital for success as students who are unfamiliar with 12th class(HSSC) annual examination pattern, important questions will surely face failure.
The students of Board of intermediate and secondary education Gujranwala must not waste their time any longer and start their revision of their official board syllabus as their board exams are starting very soon and students must have adequate knowledge of all official board subjects and practice their coursework important questions on a daily basis in order to secure their position and obtain bright future. As it is very important for students of 12th class to secure high marks as these will help them gain admission in best universities as merit is very high among the top universities of Pakistan.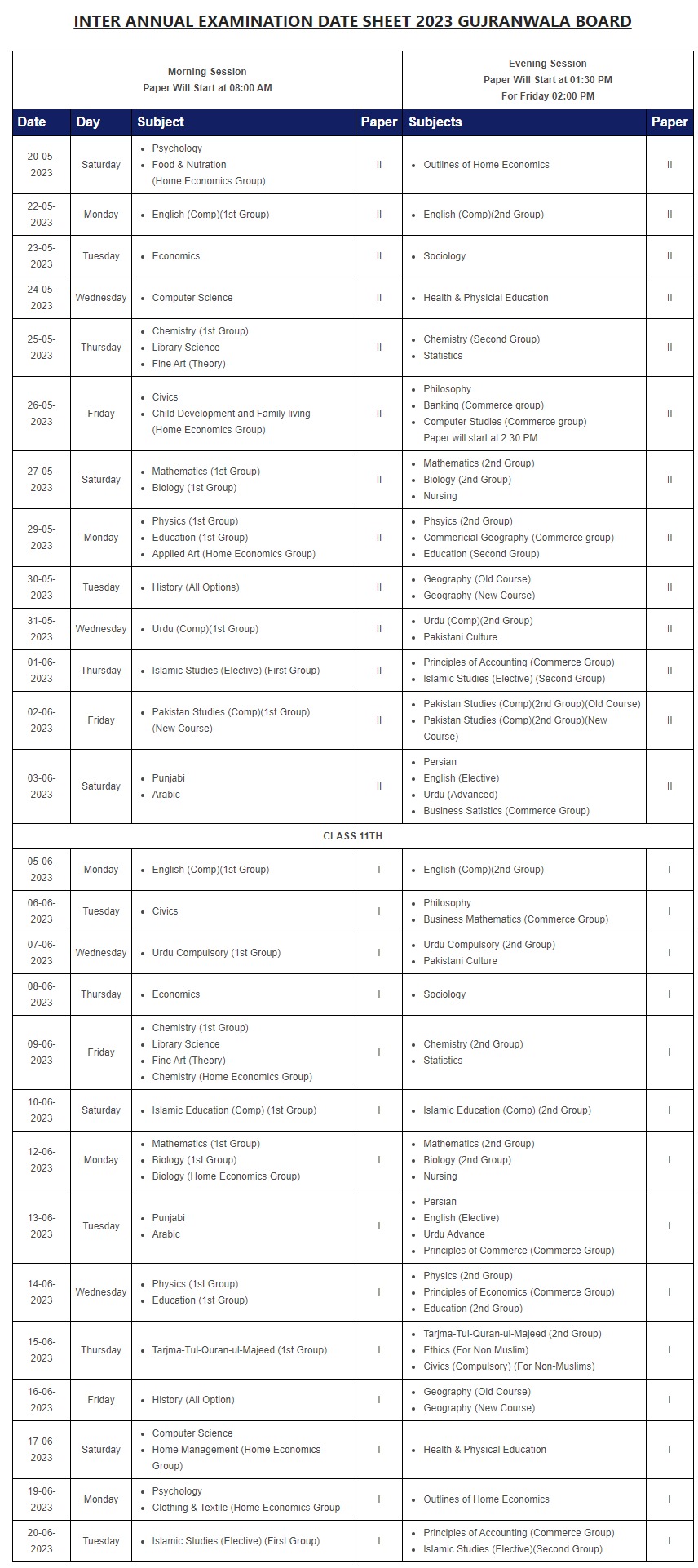 Gujranwala Board 12 class Datesheet FAQs
Q: What is the date of 12th class Gujranwala board exam 2023?

Ans: The 2023 exams are tentatively scheduled to begin on Thursday, May 25, 2023. However, these dates are subject to change, so it is always best to check the official announcements and notifications from the respective education board for the most accurate and up-to-date information.

Q: Where can I find Gujranwala Board 12th class datesheet?

Ans: The Gujranwala Board 12th class datesheet can usually be found on the official website of the Gujranwala Board. To access the datesheet, visit the website and navigate to the "Examination" or "Date Sheet" section.

Q: Which subjects are listed in the Gujranwala Board 12th class datesheet?

Ans: The Gujranwal Board 12th class datesheet includes a comprehensive range of subjects taught at the 12th grade level, including Urdu, English, Mathematics, Physics, Chemistry, Biology, Computer Science, and Islamiat.
Get 2nd Year Date Sheet 2023 BISE Gujranwala Board Online:
At an intermediate level, both types of students including private and regular studies appear for the exams. Both category students appear at the same time, and they also asked to follow the same pattern and the same paper. Inter candidates appear for the examination at distant places. The Board of education arranges different examination centers for the candidates. Completely peaceful environment with complete security offered to the candidates during their exams. However, there is, somehow, strictness also applied to the candidates to make the education level safe and transparent. Hopefully, Other than GRW board FSC date sheet, BISE Gujranwala will also offer the examination environment with complete satisfaction and peacefulness.
Students of inter level are to be suggested to make potential efforts as much as they can to prepare their exams. This is because the inter level of education is considered as the most valued level of education. It decides the next education level for you. After completing the inter level of study you will face hard or heavy competition for obtaining admission in higher educational institutes. Students with an exceptional level of preparation and good grades only get admission to higher educational institutes. So, if you want to lead your education career further then make possible efforts now.
Gujranwala Board Inter part 2 Date Sheet 2023 For All groups:
Punjab is a well-known name for offering quality education. This is all has become possible just because of the educational bodies or boards proposed by Punjab. BISE Gujranwala is one of these educational bodies. In 1976, it was established, and right from that time it is still consistent on the way to offer quality education to the areas covered by this board.
12th Exam Paper Pattern For Major Subjects
| | |
| --- | --- |
| Urdu | 75 Marks, 19 MCQs, 10 Short Questions, 5 Long Questions. |
| English | 75 Marks, 19 MCQs, 10 Short Questions, 5 Long Questions. |
| Pak-Studies | 50 Marks, 19 MCQs, 10 Short Questions, 5 Long Questions. |