Updated on March, 2023
The Board of Intermediate and Secondary Education Sargodha has informed that the date sheet for the 12th Class Annual Examinations of 2023 will be announced in May, 2023. Students who are registered to appear for the exams are advised to keep visit our website for latest announcement.
The students of BISE Sargodha board 12th class (HSSC) will have to wait no more as the board is expected to release their annual examination 12th class date sheet starting May, 2023. Students who previously had to undergo supplementary examinations are advised to thoroughly go their official BISE Sargodha board syllabus in order to secure their position in their upcoming annual examinations. Students of 12th class(HSSC) 2023 will find all their annual examination news on this page so keep visiting this page frequently.
Students of 12th class can get all the latest information concerning their board of intermediate and secondary education Sargodha board date sheet on this page as well as links to other useful educational study material which will greatly help students of 12th class(HSSC) achieve the best marks in their board examinations. Students must try to understand all the important sections of their compulsory subjects and optional subjects as well while trying their best for their board exam paper questions as only more practice will make them better at attempting their board examinations.
All the intermediate students including FA, FSC, ICS, and I.COM come under the board of intermediate and secondary education, BISE Sargodha will be provided with 2nd year date sheet 2023 Sargodha board in the month of May 2023. Students will appear for an annual examination in the month of May 2023. The information is according to the latest announcement by the BISE Sargodha board. According to the announcement of the board, the exams of 12th grade class will be will be start from 30 May, 2023. Students are advised to remain linked with our website campus.com.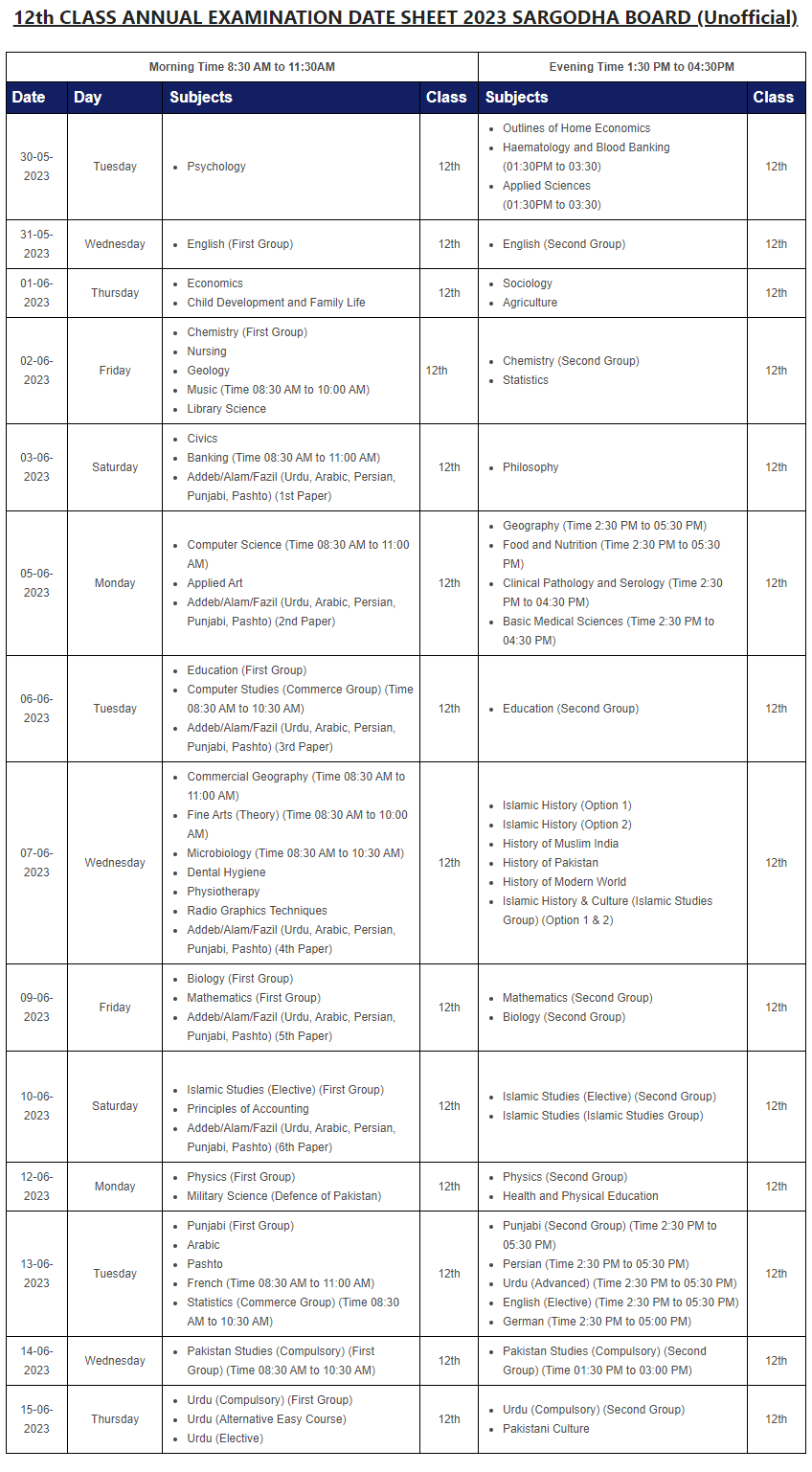 Important Information on BISE Sargodha 12th Date Sheet
| | |
| --- | --- |
| 12th Exam Start Date 2023 | 30 May, 2023 |
| Compulsory Subjects | 3 Subjects [Details] |
| Optional Subjects | 14 Subjects (Physics /Maths /Biology /Chemistry /Computer /General Science /Islamyat Elective /Punjabi /Education /Civics /History /Economics /Jughrafia) |
| Board Jurisdiction | Sargodha, Khushab, Mianwali, Bhakkar |
| Duration of Exams | Completes in 30 days |
| Official Board Website | www.bisesargodha.edu.pk |
| Date Sheet Status | Announcing in the month of May 2023 |
2nd Year Date Sheet 2023Sargodha Board
Summer is known as the exams season for intermediate classes every year. The process will come to see the students of the intermediate level will come for an annual exam during summer. Like every year the examination process will last in two months approximately. The candidates of the 12th class will appear for an examination first as compared to the 11th class according to the HSSC date sheet Sargodha board. Students are to inform that private and regular students both will be provided with the 2nd year Date Sheet at the same time. However, the date sheet of 12th class will publish first as compared to the 11th class date sheet of Sargodha.
The intermediate level of education is the main and important level of education because at this level students choose their career. At this level, the study or education divides into several categories including science, art, and commerce, etc. The science category shows further classifications including pre-engineering studies, pre-medical studies, and computer science studies. Commerce and art study categories are common. All these categories have their own importance. We give best wishes to the candidates of all these categories who are going to appear for their Sargodha board annual examination.
BISE Sargodha Inter Part 2 Date Sheet 2023:
This is the age in which we are breathing is the age follow online or internet things. In almost every single aspect of life, we need quick assistance by typing selected keywords on Google tabs. Under this situation, we are also looking for quick and easy assistance in the education system. These ways comprise Biology online video lectures. These lectures are planned by qualified teachers. Past papers the key points of good practice we also offered here. In the end, students are to inform that MCQs English test online arranged by the professional teachers they can also find here. Above all candidates will also be provided with 11th class 2023 result Sargodha board when it will be published officially.
12th Exam Paper Pattern For Major Subjects
| | |
| --- | --- |
| Urdu | 75 Marks, 19 MCQs, 10 Short Questions, 5 Long Questions. |
| English | 75 Marks, 19 MCQs, 10 Short Questions, 5 Long Questions. |
| Pak-Studies | 50 Marks, 19 MCQs, 10 Short Questions, 5 Long Questions. |