Board
Exam Result
Status

Faisalabad Board

BISE Faisalabad Board 9th Class Result 2022

Will be Announced on

19th September 2022
Class 9th students are informed that the annual result of the Bise Faisalabad Board has been annouced today at 10:AM September 19, 2022. You should check your result with 100% perfection and clarity. These exams were conducted by the Board from May 26, 2022. Students were given their date on April 19, 2022.
Highlights about 9th Class Result 2022 Faisalabad Board 2022
Session

Annual
2022
Bise Faisalabad Board 9th Class Result
Declared
Announce Date of 9th Class Result
19 September 2022
Result Availability
Online, through SMS, or gazette
Position Holders
Announced one day before the regular results
Commencement of Exams
May 26th, 2022
Total Marks of 9th class
550
Passing marks of each paper
33%
Total number of candiate
Approximately 155222
Faisalabad Board Address
38000 Jhang Rd, Air Avenue City, Faisalabad, Punjab (location)
Official Website
bisefsd.edu.pk
Board Chairman
Zafar Iqbal Sarwar
Contact Number
+92 41 251 7712
Email address
info@bisefsd.edu.pk
How To Check Bise Faisalabad Board 9th Class Result 2022:
You can check your faisalabad board 9th class result 2022 by:
Where Campus.pk comes with all the latest updates on the 9th class result, at the same time, we would also like to make students familiar that how they can check bise faisalabad 9th class result 2022. The very first thing you have to keep in mind is that the process to check result is quite easy. The only source to check the result is to check it through the official website of the Faisalabad board of education.
Check Result By Roll Number:
Students can check result by adding their roll number to the given search bar on the website.
Check Result By Names:
You can also check the result of 9th class 2022 faisalabad board by adding your name in place of the roll number on the specified given search bar.
Check Result By SMS:
The board of education also introduces the alternative way to check result by SMS. This is a feasible option for students who have no access to the internet. Students have to send their roll number to "800240" to check result.
General Information Of Bise Faisalabad Board.
Established in 1988, BISE Faisalabad is responsible to conduct Matriculation and Intermediate examinations every year in the months of March and April and announce their results on 19 September 2022 and intermediate results at the end of September. Examinations in the district of Faisalabad, Chiniot, Jhang and Toba Tek Singh under the Faisalabad Division are conducted under BISE Faisalabad, situated on Jhang Road near the Faisalabad International Airport. You can visit the website of bise Faisalabad board.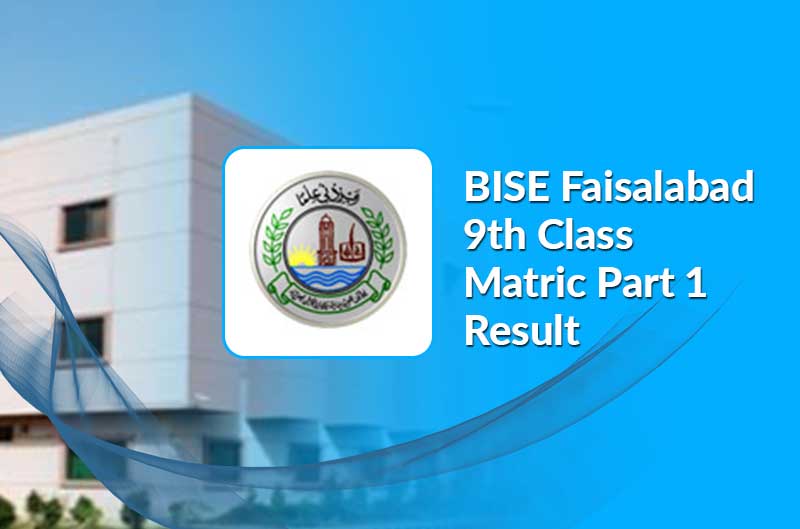 Toppers of 9th Class Result Faisalabad Board 2022:
The names of toppers of the Bise Faisalabad Board will be declared one day before the regular result. Students who will receive 1st, 2nd, and 3rd positions will be selected for the prizes and medals in 9th class result 2022 faisalabad board.
| Rank | Toppers Name | Secured Marks |
| --- | --- | --- |
| 1st | Available Soon | Available Soon |
| 2nd | Available Soon | Available Soon |
| 3rd | Available Soon | Available Soon |
Previous Years Statistisc Of Faisalabad Board 9th Class Result:
Years
Appeared
Passed
Percentage
2022
180468
78908
43.72%
2021
168335
167542
99.53%
2020
PROMOTED
PROMOTED
PROMOTED
2019
158746
124064
78.15%
Frequently Asked Questions
Q:1 When will the Faisalabad board announce the 9th class result?
Ans: The Faisalabad board announced the 9th class result in 19 September 2022.
Q:2 What types of programs do you get in 9th class?
Ans: In the 9th class, there are a variety of programs available, including arts, humanities, and science.
Q:3 What happened when the 9th class results of the Faisalabad Board were announced?
Ans: If you pass the exam and the results are announced, you can appear in the next session of the 10th class.
Q:4 What are the total marks in the bise faisalabad board 9th class result 2022?
Ans: The total marks in the 9th class exam result are 550.
Q:5 Is the online result considered the official result?
Ans: No, an online result will provide you with an instantaneous idea of the result. However, the official result card that the Faisalabad Board will send you after the results will only be used to clear the 9th exam.
Q:6 How can I check my 9th class result via SMS?
Ans: The procedure is very simple to verify the 9th class result of the Faisalabad Board:
Type your roll number in the message text on your mobile phones.
Send it on the code 800240 provided by Faisalabad Board.
After 15 to 20 minutes, you will receive your 9th class result.
Join our email list to get informed on priority whenever the 9th Class result is announced by Faisalabad Board