16 November, 2020
Views 1410
Education Minister Announces To Keep Schools Open After NCOC Meeting
The meeting of National Command and Operation center was held today in which the federal education minister, Shafqat Mahmood and the inter provincial ministers participated. The agenda of the meeting was to discuss the situation of the coronavirus in the schools and
colleges in Pakistan
. The authorities had to decide that whether the schools will remain open or due to increase in the coronavirus cases they will be closed again. Apart from this it was also proposed previously by NCOC to announce the
early and the extended winter vacations
for the students this year.
Announcement By Murad Raas
The Punjab education minister, Murad Raas proclaimed that till now no decision is made on
closure of schools in Punjab
. All the recommendations from the authorities have been put forward but currently no immediate decision has been taken. Besides the education ministers, the health officials had also attended the meeting to provide the complete details of the positivity rate of the coronavirus. From the data recorded, there is an only slight increase in the number of coronavirus cases in the schools. Moreover, the minister declared that the concerned officials are keeping a close eye and continuously monitoring the COVID-19 situation to ensure the safety of the students as well as staff members. He added that all the schools in the province Punjab are following the SOPs to curb the spread of pandemic.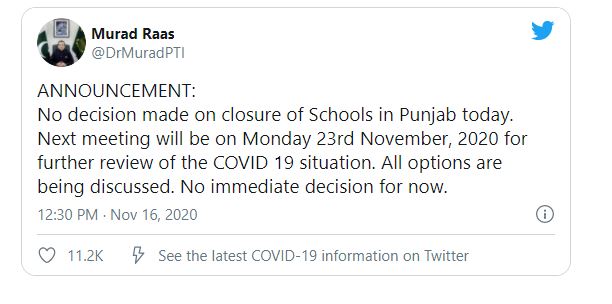 Decision About Winter Vacations
After the NCOC meeting, it was decided to keep the schools open as currently the situation of the coronavirus is under control. Furthermore to decide about the winter vacations and the closure of the schools the meeting has been deferred till 23rd November, 2020. After one week the educational ministers will sit again to evaluate the situation of the coronavirus cases to declare their further decisions.