Updated May 2023
Students of Punjab boards
The date sheet for the 2023 12th class exams is now available on campus.pk. The examination season is approaching, and most students are already preparing their syllabus. The date sheet is important because it will help you finalize your preparation plan.
The Boards of Intermediate and Secondary Education (BISE) under Punjab have announced that the 12th class exams will be held in June. The 12th class date sheets 2023 have been updated on the relevant pages according to the boards.
Please visit campus.pk to download your date sheet. Good luck with your studies!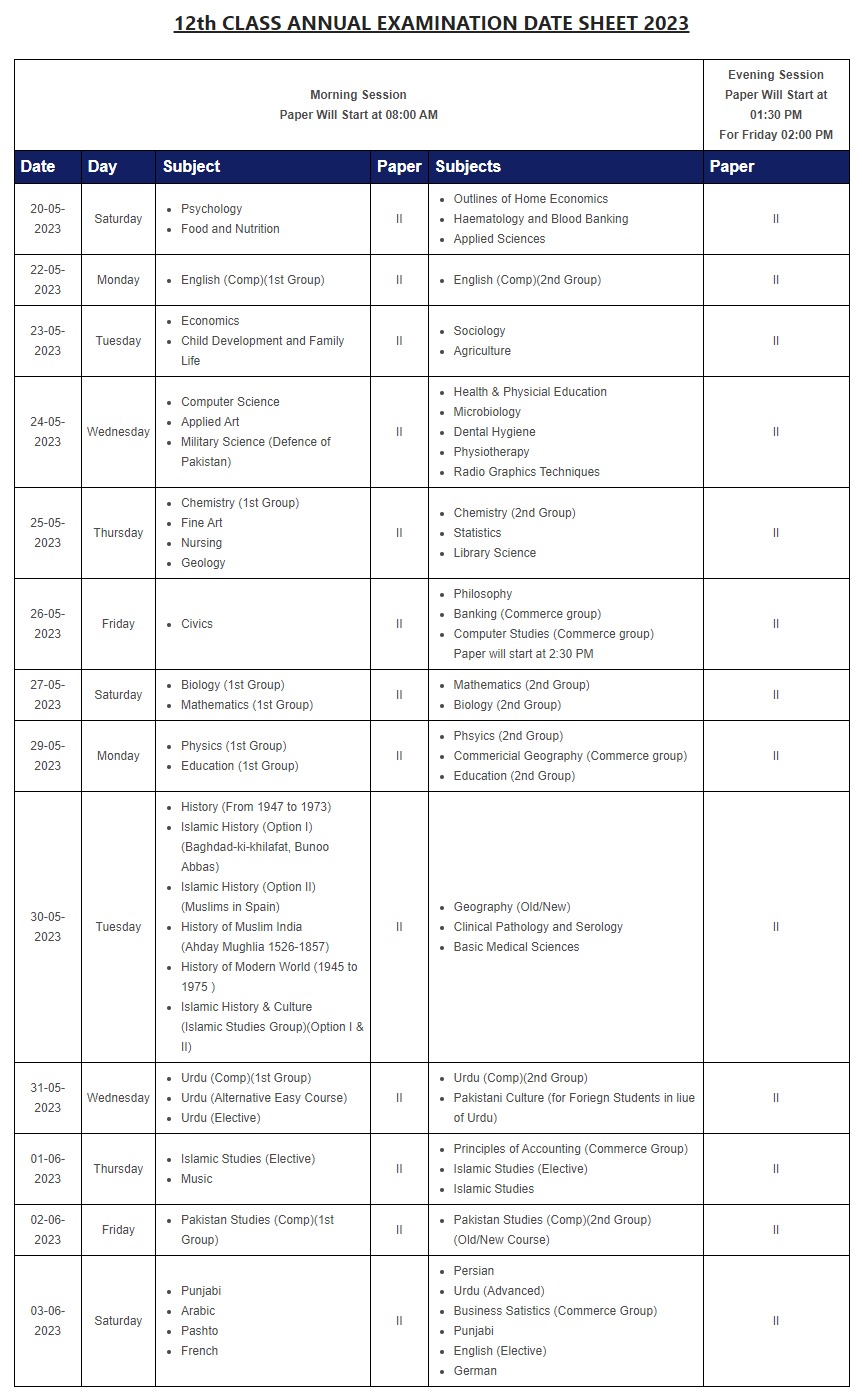 Get 12th class date sheet 2023 For All Punjab Boards:
Punjab is a well-known name in providing exceptional quality education. All this happens just because of the boards of education running under Punjab. There are almost 09 educational boards including BISE Lahore date sheet 12th class, 12th date sheet of BISE Rawalpindi, BISE Gujranwala, date sheet 12th Multan, BISE Bahawalpur, BISE Faisalabad 12th datesheet, 2nd year date sheet Sargodha, BISE Sahiwal, and BISE DG Khan are working in Punjab under the instruction by the education ministry of Punjab. The establishment of all these educational boards came into existence at different times but with the same aim, the phenomenon has done. The aim is to provide good quality education across Punjab.
Date Sheet of 2nd Year 2023 Punjab Board:
From the most familiar educational platforms running on internet campus.pk is the one. Within less time the platform has got much familiarity and this all happened just because of the good services of this platform. This is not only known in providing the inter part 2 date sheet to the students. However, throughout the study session students find all the assistance at this platform. We offer best wishes to those who will appear for the 12th class annual examination 2023. Get the latest 2023 results 12th class here.