Board
Exam Result
Status

Gujranwala Board

BISE Gujranwala Board 9th Class Result 2022

Will be Announced on

19th September 2022
The Gujranwala board gives the annual SSC exams every year. This year, the board announced a 9th class date sheet on April 8, 2022, and the exams began on May 26, 2022. The Bise Gujranwala Board has announced the 9th class results 2022 on September 19, 2022.
Result awaiting students are advised to keep visiting our website campus.pk. We will keep you updated regarding the 9th class result gujranwala board 2022 check here
Gujranwala Board History and Jurisdiction:
The Board of Intermediate and Secondary Education, Gujranwala also known as BISE Gujranwala is an examination board in Gujranwala Division. It was established in 1983. It conducts SSC part 1, SSC part 2, HSSC part 1 and HSSC part 2 exams every year. A number of districts fall under the jurisdiction of Gujranwala Board. These districts include Gujranwala, Gujrat, Mandi Baha-ud-din, Hafizabad, Narowal and Sialkot.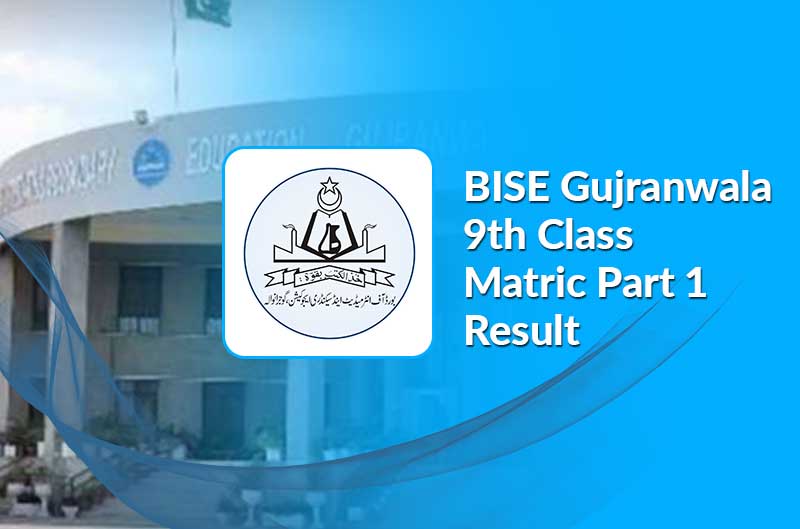 Special Highlights about 9th Class Result Gujranwala Board 2022.
Session

Annual
2022
Bise Gujranwala 9th Class Result 2022
Declared
Announce Date of 9th Class Result
19 September 2022
Result Availability
Online, through SMS, or gazette
Position Holders
Announced one day before the regular results
Commencement of Exams
May 26th, 2022
Total Marks of 9th class
550
Passing marks of each paper
33%
Total number of candiate
Approximately 209527
Gujranwala Board Address
Sialkot Bypass, Faisal Town, Lohianwala, Gujranwala, Punjab (location)
Official Website
bisegrw.edu.pk
Board Chairman
Dr. Tariq Mehmood Qazi
Contact Number
(055) 9200750
Email address
chairmanstaffbisegrw@gmail.com
How To Check BISE Gujranwala Board 9th Class Result 2022:
You can check your gujranwala board 9th class result 2022 by:
9th class is the first experience for many students to appear for the boards examination. This is the reason that students are not quite familiar with the idea that how to check 9th class result. If you are also worried that how to check the 9th class result 2022 gujranwala board then we advise you to follow the below-given steps to check the result:
Check Result By Roll Number:
Students who can browse the Gujranwala board official website can check result of 9th class 2022 gujranwala board by putting their roll numbers.
Check Result By Names:
Students can also easily check result by adding their names to the given search area.
Check Result By SMS:
The Gujranwala board of education also introduces an alternative way to check results. Those students who will not have access to the internet can check the bise gujranwala 9th Class Result 2022 by sending their roll numbers to the code "800299".
9th Class Gujranwala Board Position Holders of 2022:
Position holders of bise gujranwala board 9th class result 2022 has not declared. The position holders will be announced by the Gujranwala Board in a ceremony which will be organized one day before the official result. The names and marks of first three position holders will be declared in the ceremony.
| Rank | Toppers Name | Secured Marks |
| --- | --- | --- |
| 1st | Available Soon | Available Soon |
| 2nd | Available Soon | Available Soon |
| 3rd | Available Soon | Available Soon |
Recheck Process After 9th Class Result 2022 Gujranwala Board:
The candidates can contact the bise gujranwala board staffs. The candidates can get the application form from the complaint window. He/She carefully read the instructions on the form and fill it. When they fill the form and than they submitt the application form of rechecking in case they do not feel satisfied with the marks obtained in annual exams. Moreover, the board give the other options to improvement marks in exams if he/she get low marks in exam or if students get supply in exams, So students also follow the application form according to the given instructions provided by the gujranwala board authorities.
Last 5 Years Gujranwala Board 9th Class Results:
Years
Appeared
Passed
Percentage
2022
234589
103501
44.12%
2021
229957
228509
99.37%
2020
PROMOTED
PROMOTED
PROMOTED
2019
251440
132717
52.78%
2018
249577
136032
54.51%
2017
245277
129614
52.84%
BISE Gujranwala Board Duties:
Punjab's boards are very careful and authentic boards in Pakistan BISE Gujranwala board is also one of the advanced board in the province of Punjab. In BISE Gujranwala Board the yearly exams are structured at the same time in all regions of BISE Gujranwala Board. The entire students are bounced to become visible in the selected center if not it departs the registration of a particular student. Every year many candidates of matric part 1 get a register of the board as well as sit in the exams according to the arranged timetable. It is the responsibility of the respective board to accomplish all the requirements of candidates and to convey equal knowledge in all registered schools and colleges.
Frequently Asked Questions
Q 1: Is the result announced by the Gujranwala Board for 9th class?
Ans: The 9th class result is yet to be announced by the Gujranwala Board.
Q 2: What is the minimum percentage to pass in the 9th class result?
Ans: The minimum percentage to pass in 9th class result is 33%.
Q 3: What happens if students get supply in 9th class result Gujranwala board 2022?
Ans: Students could reappear in the supplementary exams after 40 days of receiving their 9th grade supply results.
Q 4: What is the date of 9th class result 2022?
Ans: The result of 9th class will be announced on 19 August 2022 in all Punjab Boards.
Q 5: What is the efficient way of checking the online result of 9th class?
Ans: The most efficient way of checking the result of class 9th is by roll number.
Q 6: How to check the 9th class result by SMS?
Ans: To check the 9th class result by SMS, you must know the code of Gujranwala Board and send your roll number through text message on that code.
Join our email list to get informed on priority whenever the 9th Class result is announced by Gujranwala Board